IYears ago, Jerry O'Neal and Janice (God rest her soul) picked up two of the chip below from the Fremont casino cage. One chip was for their friend and fellow collector, Dr. Ariano and the other was for themselves (the O'Neal's). After I learned of the chipís existence from Jerry and Janice, I went to the Fremont cage to pick a few of these 50 centers for myself and was told the 50 cent chip was recalled by the Fremont management to be destroyed. The 50 cent chip was never meant to be used and/or given out to the public. The decision was made by the Fremont management to go with the Bud Jones 50 center and NOT the Paulson Hat & Cane 50 cent piece.
Therefore, it appeared to me as well as the O'Neal's that only two of these chips ever got out to the collecting public. Meanwhile, Dr. Ariano quit collecting casino chips and sold his complete chip collection to Jerry Wall. Bits and pieces of the Wall collection, specifically the rare ones, were sold to various deep pocket collectors prior to the entire collection being purchased from Jerry Wall by chip dealer Bill Akeman. However, this specific piece, due to a lack of knowledge by the buyers, was over looked and remained in the inventory that was for sale by Bill. Bill took the Wall collection and started selling it out from the Gambler's General Book store located here in Las Vegas. That lease arrangement lasted for a little while before the remaining Wall collection was purchased out right by Mike Spinetti who has whatís left of it today.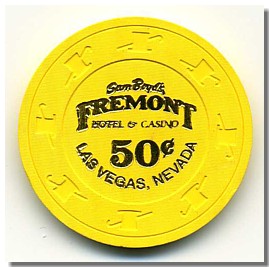 While the collection was in the hands of Bill and Gambler's General store I purchased this 50 cent piece, that was originally owned by Dr. Ariano, for a considerable sum of money (in the thousands). Bill knew it was a "tough" piece and priced it accordingly. After I purchased it, I placed it in the safe deposit box where it is today. As far as I know, the other chip is still owned by Jerry O'Neal and resides in his collection.
Now, what value does one place on this chip? Since there are only two known and since all collectors of Las Vegas fifty-cent chips can never have a complete collection without it..........I would say it is priceless! I realize it is impossible for me to be objective since I own it but I would say, in todayís market, it could bring 10 possibly 20 thousand dollars.....who knows maybe more. I have no intention of selling it since I don't need the money. I have been offered sizable amounts in the past by those who know I own it but I refuse to sell it.
The Chip Rack, under the old owners, prices the piece an M*. The * meaning there are no known sales, the "M" designation being a laughable value. Of course there are no known sales....How could there be? James Campiglia is unaware of what I have written and therefore can not be held responsible for not placing the chip in his book the The Official U.S. Casino Chip Price Guide. The old Chip Rack authors, specifically one knows this story but still placed it in the "Rack" as an "M". Go figure! The new Chip Rack owners, Jay Sands, Len Cipkins & David Spragg, are unaware of what I write but I'm sure will change the chips value in a later edition.
During the posting of a note upon Greg Susongís The Chip Board, involving this chip, it was discovered a third chip exists and is currently owned by chip collector Tim Harry who resides in Australia. It is my opinion the discovery of a third chip will have very little if any affect upon the market value of this piece. It will now only allow those collectors of Las Vegas 50 cent chips, another possible opportunity to ever obtain this chip for their collection.